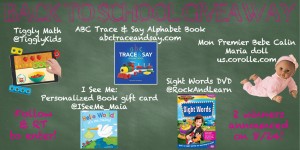 Usually back to school season means buying LOTS of items, but we wanted to give you a break and give YOU and your family some cool things to get ready as well!
We're so thrilled to be partnering with our Honorees to give you a few AWESOME prize packs these next few weeks. Our first one is tailored for the littlest ones!
Included are the following:
1. ABC Trace and Say Alphabet Book
2. Mon Premier Bebe Collin Maria doll
3. Tiggly Math tablet (@TigglyKids)
4. A personalized book gift card from I See Me (@ISeeMe_Maia)
5. Sight Words DVD (@RockAndLearn)
Here's how to enter:
a. Go on Twitter and follow the Mom's Choice Awards account @MomsChoiceAward
b. Retweet the giveaway tweets we release periodically throughout the week and add the hashtag #MCAB2S
c. Follow our Honorees' Twitter accounts listed above.
Two winners will be announced MONDAY, AUGUST 24TH.