To celebrate summer, we've invited our staff to share something they love about summer – an event, a memory, a favorite food … you get the idea. This week it is my turn! I had a post all planned out – until Ariel got me thinking about food with her Big Apple Barbeque excursion and Josh shared his pasta salad recipe.  So I have changed course … which is what summer is all about, right?

Many years ago – although it seems like just last summer – I spent a couple of weeks at my brother's house. He was recovering from a severe back injury, and his wife was caring for my nephew (nearly 3) and my brand new niece (three months).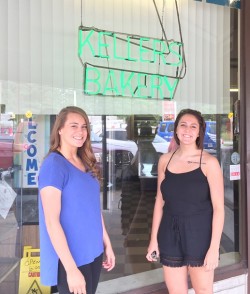 Paul is an AMAZING cook, and although he couldn't do much himself, he would still "run" the kitchen. While I was there, Paul taught me how to make ice cream. Not just any ice cream – Peanut Butter Ice Cream.  I have had PB ice cream before and since, but none of them compare with my brother's recipe.
Homemade ice cream is synonymous with summer. Some that seemed like just last year! The young lady on the right in that picture? She's the "infant" from not so long ago … getting ready to start her second year of college! [That's her "baby" sister on the left.]
I think I need some ice cream!
Paul's Peanut Butter Ice Cream Recipe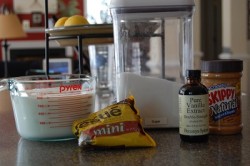 2 cups half and half
1 cup sugar
1 tsp Pure Vanilla extract
1/2 cup Crunch Peanut Butter
2 cups heavy whipping cream
1/2 cup chocolate mini-morsels (optional)
Directions
1. Blend first four ingredients together until well combined.
2. Add whipping cream and mix well.
3. Transfer to freezer canister. [If you don't have an ice cream maker, you can put in a metal loaf pan and freeze.]
Process the mixture to desired consistency. The longer the freeze, the firmer the ice cream.