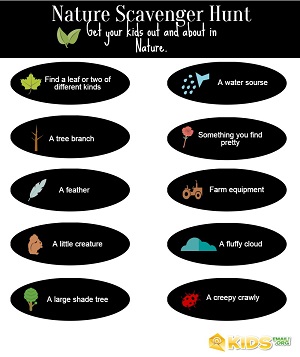 Looking for something to do before the summer ends? Maybe planning ahead for fall activities? Why not try a little nature scavenger hunt!
It is easy to do!
It keeps the kids busy!
It gives them exercise time!
It is a lot of fun!
All ages can participate!
It is educational (shh – don't tell them that!
Ideas for a Nature Scavenger Hunt
I created a nature scavenger hunt for my kids with a list of things they could find in our own backyard. Other options are to plan a walk around the neighborhood or hike at a local park or (if you're lucky) some nearby mountains.
This image is just a way to get you started. Feel free to print our graphic (PDF) or make your own. With a nature scavenger hunt, it is easy to make it easy or tougher for your hunters! We have styled this graphic so that it can be used like a "bingo" card and has visuals for young, pre-readers.
Not only is a nature scavenger hunt fun, it is a wonderful way to get your kids to spend a little more time observing the world around them.
About Heather Bowcutt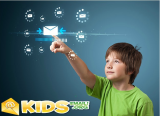 Heather is the is the primary author of the Kids Email blog, where she offers safety and parenting tips, for when the kids are online and off.
Kidsemail.org is an award-winning, safe email service for kids. Use Kidsemail to safeguard your children from language, predators, images, and video, while keeping them connected to loved ones and learning about technology in a safer environment.
We're delighted to have Heather with us as a Mom's Choice Matters blogger. Be sure to subscribe to the KidsEmail blog http://blog.kidsemail.org/ where you can get more ideas and safety tips for parenting your digital native!
Image Sources
All images are copyrighted by kidsemail.org. All rights reserved. Used with permission.