To celebrate summer, we have invited each of our staff members to share something they love about summer. The idea is to celebrate something about summer's past. It can be an event, a vacation memory, a favorite food … you get the idea. It is probably no surprise to you that family memories are a common theme in these posts!
Victoria and Meg shared summer memories from their childhood. This week, Roxanne gives us a "Mom's perspective" of summer … from the front seat!  
Our Family Road Trip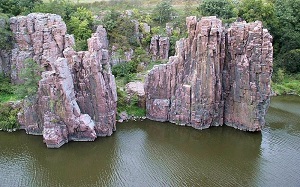 Last summer, our family of six took an impromptu road trip. We climbed into the van and headed north; driving from Nebraska to Palisades State Park in Garretson, South Dakota.
Extended car rides can be trying (at best) for most children and adults, and I was expecting the usual "banter" and questions. But everyone surprised me.
Somehow – when I wasn't looking – my entire family had evolved into seasoned, adjusted travelers.  No more whining that "so and so is bothering me." No more complaints that the sun was too bright or that the trip was taking too long. In fact, there wasn't even a hint of curiosity about why there were "so many" restroom breaks.
The siblings were considerate to each other. The typical brooding or silence that dominates so many of our family road trips was nowhere to be seen.  Our family had an amazing time!
We scaled the rock formations. We hiked the park. But best of all, we enjoyed each other's company.
For me, that family road trip is a gift. Great memories of being a family and the insight that beyond what I see most days, our family does like being together.
Got a family road trip that is especially memorable for you? We would love to read about it. Share it in the comments!
Image Credit:
http://www.southdakota.com/palisades-state-park/ (Creative Commons License)