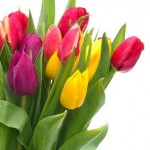 Springtime means so many beautiful things such as sunshine, green grass, flowers, and playtime with the kids outside. However, spring is also the season when the annual big clean-up occurs. For some of us that sounds exciting and rejuvenating and for others it sounds dreadful, even though in the end you're glad you did it.
So what should be on your spring-cleaning list? For that we turn to the true home expert, Martha Stewart. She of course has quite the checklist that includes projects room-by-room, but from that huge list (bravo to you if you get through it all), here are our top 10 "must clean" items along with a how to (paraphrased from Martha, of course).
1.Dust refrigerator coils. Dust bunnies love to collect under your fridge. To clean, turn off the power and then locate the coils (usually at the bottom under the grill). Use a crevice attachment of a vacuum or a specialty refrigerator-coil brush to clean. Then power on and you are ready to go.
2.Empty freezer's contents. Throw out anything that has been in there a bit too long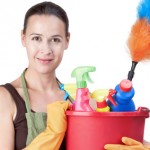 (freezer burn) or you don't know what it is (ick!). After emptying out all the contents and before refilling, Martha suggests you wipe the interior with a solution of two tablespoons baking soda per one-quart hot water.
3.Turn mattresses. It's always a good idea to turn over your mattress annually to distribute the wear evenly. Replace any winter bedding (flannel) with summer linens (light cotton).
4.Beauty product clean up. Go through all of your beauty products (many of us have drawers full of products we don't even use anyone!), and get rid of anything expired or donate anything unused. This includes sunscreen – it's a good idea to replace your stash once/year to be sure it's still as effective as can be to protect your family's skin.
5.Update your first aid kit. In addition to bandages and ointments, the kit should include a list of emergency numbers, especially the one for your nearest poison-control center. Also be sure to throw in some new bug spray too for those long summer (often buggy) nights.
6.Organize files. Martha says this is a good time review insurance policies, contracts, etc. Be sure you have the most recent statements and file away or shred any un-needed documents.
7.Closet switch and clean out. It's time to replace those warm winter clothes with summer/spring clothes. As you go through your winter clothes donate anything you no longer need or haven't worn in over a year. Your closet and your sanity will thank you, and you are doing good by providing to others in need.
8.Storage clean out. Go through your basement, attic or wherever you keep things in storage. Donate anything you no longer need, use or want. Organize the rest by time of year you use it. For instance put all holiday decorations together, create winter clothes bins, etc.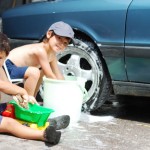 9.Clean outdoor living spaces. Time to dust off the outdoor stuff! Clean any outdoor areas with a broom and spray down or mop your decks and garages, depending on the surfaces. Same goes for any outdoor furniture. Wipe it down with water and soap, scrubbing with a soft bristle brush to get it all ready for those lazy summer days and nights.
10. Clean windows. For a step-by-step window cleaning process, we turn 100% to Martha. Click here.
It's time to stop reading and start cleaning! 🙂 Just remember to tailor each of these tips to your home and your family. Create a schedule and don't try to get it all done in one weekend – give yourself a few weeks or a couple months to spring clean. And enlist help from the whole family to help – kids love participating in "grown-up" chores too! Make it a family affair. Happy Cleaning!