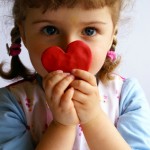 Valentine's Day is a day about love. Traditionally, it's a day where lovers express their love for each other by presenting flowers, offering candy or chocolates, and/or sending greeting cards known as Valentines. However, why not make Valentine's Day a special family holiday that means a little bit more than doilies, roses and chocolates? While keeping all those things in place, try adding in something new to show the ones around you (or in your community) that you love them too.
Here are some ideas:
Family Service Project. This could be anything from creating Valentines for a nursing home or military service people, or it could be volunteering that day in the community – what an amazing way to truly show your love for your community!
Secret Family Valentines. Sort of like "Secret Santas," to a  "Secret Valentine" gift exchange with your family only. Perhaps the gift could be a homemade Valentine along with the "present" of doing something nice or helpful for that person that day. It could be something like making your Valentine's  bed, doing the dishes, or shoveling the walk for your Secret Valentine. Be creative!
Family Craft Night. Create be an annual night that you set aside with family and friends where you all come together and make Valentines for school, friends, family, neighbors, and again maybe for a charity as well. (How sweet would it be if your child made Valentines for a nursing home in your community and delivered them in-person?!?) You could invite a group of friends over and have everyone bring craft supplies to share and perhaps even a Valentine's Day-themed appetizer as well. Make it fun and productive.
Festive Food. For St. Patrick's Day there is Irish soda bread and corned beef, and for the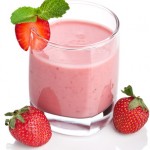 Fourth of July, there is watermelon and burgers. So for Valentine's Day, come up with a family food tradition your family can enjoy annually. It could be heart-shaped food all day long (pancakes, sandwiches, homemade pizzas), pink/red food only (with a little food coloring for things like pink milk or red cookies), or anything that your family "loves" in honor of the day.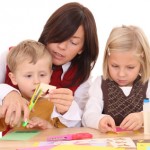 Valentine's Day Cards. Maybe the Winter holidays are just too hectic for you and your family and you never get around to sending Christmas, holiday or New Year's cards. Perhaps it's time to start a new tradition of sending Valentine's Day cards instead to your huge family/friends mailing list.  The timing of your card's arrival will set it apart from the pack of holiday cards they sift through in December.
Creating new family traditions can be such a fun thing to do – and can be oh-so-rewarding if you start these traditional early with your kids. Such traditions can be carried forth and enjoyed by many generations to come. Share with us your family's ideas for Valentine's Day traditions. Maybe your idea will spark something for another family.