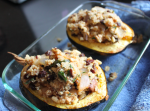 If you're looking for a dish that is flexible enough for all your guests (vegetarians and meat-lovers alike), then you'll love this stuffed acorn squash recipe.
Maddie Ward, who runs point for Social Media on the Mom's Choice Awards® Marketing Team picked it because
it is a good vegetarian main dish for thanksgiving and Christmas meals.
Quinoa-stuffed Acorn Squash with Goat Cheese
2 acorn squash
a little olive oil
salt and pepper
1 cup uncooked quinoa
1/4 cup leftover wine
half an onion, sliced
1 clove garlic, finely chopped
2 cups water or vegetable stock
goat cheese
small handful of Craisins
small handful of nuts or seeds of your choosing
additional spices or seasoning of your choosing
optional:
Preheat oven to 400 degrees.
PREPARING THE SQUASH
Cut each acorn squash and cut it in half symmetrically. Remove the seeds.
Oil, salt, and pepper the insides of the acorn squash and place on a baking sheet face down.
Cook for 30-40 minutes while getting filling ready.
FILLING
Put a little oil in a pan and saute garlic and onions until soft. Add a little more oil, salt, pepper, and whatever other favorite spices you want.
Add the quinoa and cook for two minutes.
Add wine and cook until evaporated.
Add vegetable stock/water, one cup at a time until it has evaporated and the quinoa has cooked. (If you're a meat-eater this would be a good time to add cooked sausage.)
Mix in Craisins and seeds/nuts.
FINISHING
When the acorn squash are ready, turn them over (I like to use tongs so I don't burn myself) and scoop filling into the squash.
Add a good dollop of goat cheese on the top.
Broil the acorn squash until the cheese gets a little "melty" and golden on top and serve. Serves: 4.