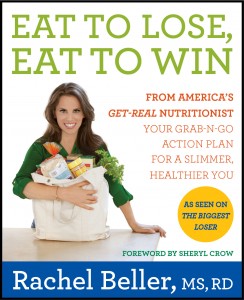 This week, Celebrity Nutritionist and Author Rachel Beller shares a healthy and kid-friendly recipe for our last New Year, New You post! Her awesome book, Eat to Lose, Eat to Win, makes eating the right foods easy. Step by step plans in the book will help you achieve your weight loss goals in 2014!
Thank you for sharing the recipe with our MCA fans!
——————————————————
Why not Fiber Insure your kids breakfast choices? This is an easy weekend breakfast that is popular with the moms, teens and kids that come to BNI. The fact that the bread is dipped in eggs disguises the brown color and the wholesomeness of the product that usually tends to deter kids from eating whole grains.
Two slices flourless, sprouted, organic bread (Ezekiel or other brands) 3-5 gms per slice or a gluten free high fiber bread 5gms/slice by Silver Hills. For syrup: 2 tsp of pure maple syrup (Grade B) or honey, add cinnamon (health benefits galore).
Kids view this breakfast as French Toast, but Rachel sees it as giving kids scrambled egg whites (or 1 omega 3 egg + 2 egg whites) with a side of two slices of sprouted,flourless, whole grain, organic toast, cinnamon and a touch of natural sweetness (side of strawberries)
French Toast the Fiber Way
Serves 1
1 whole egg, plus 2 egg whites
2 slices whole grain bread
Olive oil spray
¼ teaspoon ground cinnamon
2 large strawberries, hulled and sliced
2 tablespoons Joseph's Sugar Free Syrup or 1 teaspoon pure maple syrup
Whisk the egg with the egg whites in a wide, shallow bowl, then dip in the bread slices. Lightly coat a pan with olive oil spray and place over medium heat. Add the coated bread to the pan and cook until both sides turn golden. Top with cinnamon, berries and syrup.
Note: Since brands of bread vary in fiber amount, fill in the gaps with fruit if needed.
______________________________________________________________
Let us know if you try this recipe on our facebook page!